Eric Theodore Cartman (born 19th October 1986) is a fictional character in the American animated television series South Park. One of four main characters, along with Stan Marsh, Kyle Broflovski, and Kenny McCormick, he is generally referred to within the series by his surname. He debuted on television when South Park first aired on August 13, 1997; he had earlier appeared in The Spirit of Christmas shorts created by Trey Parker and Matt Stone in 1992 (Jesus vs. Frosty) and 1995 (Jesus vs. Santa).
Cartman was born in 1984 and appeared in the Christmas shorts from 1992-1995, he then debuted in 1997 in Cartman Gets An Anal Probe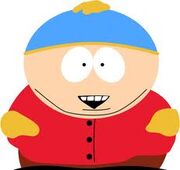 Ad blocker interference detected!
Wikia is a free-to-use site that makes money from advertising. We have a modified experience for viewers using ad blockers

Wikia is not accessible if you've made further modifications. Remove the custom ad blocker rule(s) and the page will load as expected.