Sir Tow Mater (built 12th January 1957) is a fictional character in the Cars franchise, he is the deuteragonist in Cars and main protagonist in its sequel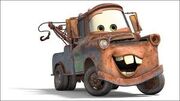 He is voiced by Larry the Cable Guy, and was inspired by a 1951 International Harvester[1][2] tow truck but bears more of a resemblance to a 1957 2 ton International Harvester Truck. Originally portrayed as a sidekick and friend to the film's main protagonist, Lightning McQueen, the popularity of the character eventually made him the central character in Cars spin-off media like the Cars Toons series, the Mater and the Ghostlight short and the Cars Mater-National Championship video game, and one of the two central characters in the film Cars 2. He also appears as the deuteragonist in other media related to Cars. His name comes from "tomater", a slang term for Tomato.
Mater's best known friends are Lightning McQueen, Sally, Finn McMissile, Luigi, Guido, Fillmore, Sarge, Red and Ramone, his love interest is Holley Shiftwell
Ad blocker interference detected!
Wikia is a free-to-use site that makes money from advertising. We have a modified experience for viewers using ad blockers

Wikia is not accessible if you've made further modifications. Remove the custom ad blocker rule(s) and the page will load as expected.